Blog
03.18.2022
Irish Poetry And Blessings For St. Patrick's Day
May the luck of the Irish be bestowed on us all every day and not just St. Patrick's Day! For this fun holiday filled with parades, shamrocks, leprechauns, and beer, let us enjoy reading some wonderful Irish poetry!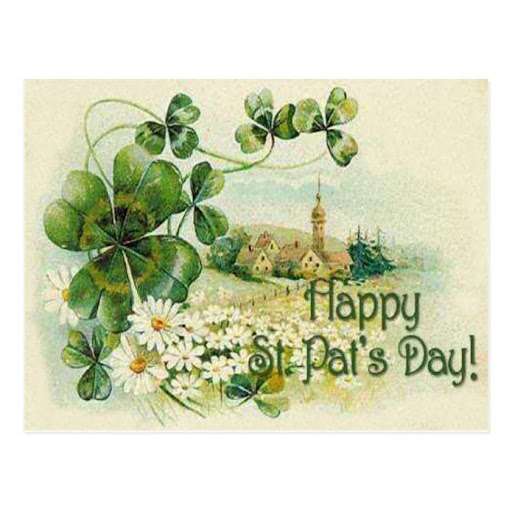 We love Gaelic and Irish imagery, like the blarney stone (which one kisses for luck), fairies, the wearing of the green, Irish dancing, corned beef and cabbage, and blessings galore. For one day, everyone is Irish! Keep in mind a shamrock (not a four-leaf clover) is lucky because of the three leaves which symbolize the Father, Son, and the Holy Ghost. A pot overflowing with gold coins at the end of a rainbow, lucky charms, smiling Irish eyes, and people exclaiming "Kiss Me, I'm Irish!" all conjure wonderful images of St. Paddy's Day.
Get into the spirit of the season with two of our most favorite Irish writers, William Butler Yeats and James Joyce! 
William Butler Yeats
"Down By the Salley Gardens" (1889)
"Down by the salley gardens
   my love and I did meet;
She passed the salley gardens
   with little snow-white feet.
She bid me take love easy,
   as the leaves grow on the tree;
But I, being young and foolish,
   with her would not agree.
In a field by the river
 my love and I did stand,
And on my leaning shoulder
   she laid her snow-white hand.
She bid me take life easy,
   as the grass grows on the weirs;
But I was young and foolish,
   and now am full of tears."
"The Lake Isle of Innisfree" (1890)
"I will arise and go now, and go to Innisfree,
And a small cabin build there, of clay and wattles made;
Nine bean-rows will I have there, a hive for the honey-bee,
And live alone in the bee-loud glade.
And I shall have some peace there, for peace comes dropping slow,
Dropping from the veils of the morning to where the cricket sings;
There midnight's all a glimmer, and noon a purple glow,
And evening full of the linnet's wings.
I will arise and go now, for always night and day
I hear lake water lapping with low sounds by the shore;
While I stand on the roadway, or on the pavements grey,
I hear it in the deep heart's core."
"The Song of Wandering Aengus" (last stanza) (1897)
"Though I am old with wandering
Through hollow lands and hilly lands,
I will find out where she has gone,
And kiss her lips and take her hands;
And walk among long dappled grass,
And pluck till time and times are done,
The silver apples of the moon,
The golden apples of the sun."
James Joyce
"My love is in a light attire
 Among the apple trees,
Where the gay winds do most desire
 To run in companies.
There, where the gay winds stay to woo
     The young leaves as they pass,
My love goes slowly, bending to
     Her shadow on the grass.
And where the sky's a pale blue cup
     Over the laughing land,
My love goes lightly, holding up
     Her dress with dainty hand."
Gaelic Verses, Songs, Blessings, and Toasts 
Hopefully, these Irish songs and verses will help you to get into the spirit of the holiday and understand why this Celtic heritage is so revered. 
"Erin Go Bragh" is a phrase that is commonly used on St. Patrick's Day as it means "Ireland forever" or "Ireland until eternity" and was apparently first recorded during the Irish Rebellion of 1798.
"Hail Glorious Saint Patrick" by Saint Agnes, 1920
"Hail, glorious St. Patrick, dear saint of our isle,
On us thy poor children bestow a sweet smile;
And now thou art high in the mansions above,
On Erin's green valleys look down in thy love."
"May the Irish hills caress you.
May her lakes and rivers bless you.
May the luck of the Irish enfold you.
May the blessings of St. Patrick behold you."
An Irish Toast by Shane Na Gael, 1908
"Success to bold St. Patrick's fist,
He was a saint so clever,
He gave the snakes and toads a twist,
And banished them for ever!"
From an Irish ballad, "The Wearing of the Green" (Arrah-na-Pogue)
"When law can stop the blades of grass from growing as they grow,
And when the leaves in summer-time their verdure dare not show,
Then I will change the colour that I wear in my caubeen,
But 'till that day, please God, I'll stick to wearing of the green."
Irish Blessing (Origin Unknown)
"May your blessings outnumber the shamrocks that grow and may trouble avoid you wherever you go." 
For more information about Ireland and history behind the phrase "Erin go bragh," consult the link below:
To read more and to see what's on the blog, check out Full Cycle Publications.